Elevate Your Space: The Ultimate Guide to the Perfect Fireplace and Accessories [Updated October, 2023]
Elevating your space with the perfect fireplace and accessories can transform your home into a warm, inviting, and stylish retreat. But with so many options available, how do you choose the right one for your unique living space? In this comprehensive guide, we'll explore various types of fireplaces, their designs, accessories, and safety tips to help you make an informed decision that suits your taste, needs, and budget. Let's embark on this journey to create the ultimate cozy ambiance in your home.
Key Takeaways
Choose the right fireplace for your home based on type, size, and desired aesthetic.

Maximize heat and efficiency with proper venting/maintenance, heat-resistant materials & insulation.

Follow safety guidelines to ensure the safe functioning of the fireplace & protect your home/family.
Choosing the Right Fireplace for Your Home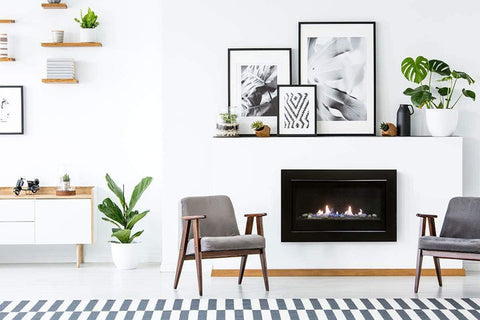 Selecting the ideal fireplace starts by understanding the different types available and their respective features. From traditional wood-burning stoves to modern electric fireplaces and versatile fireboxes, each has its own set of pros and cons. But regardless of the type you choose, ensuring it complements your room's size and desired aesthetic is paramount. Moreover, considering the appropriate accessories, such as fireplace mantels, can elevate your fireplace design and create a stunning focal point in your home.
How do you navigate this choice? It involves closely examining the various types of fireplaces and aligning your findings with your unique needs and tastes. This thorough approach allows you to make an informed decision that brings warmth to your home and adds an extra touch to your living space.
Electric Fireplaces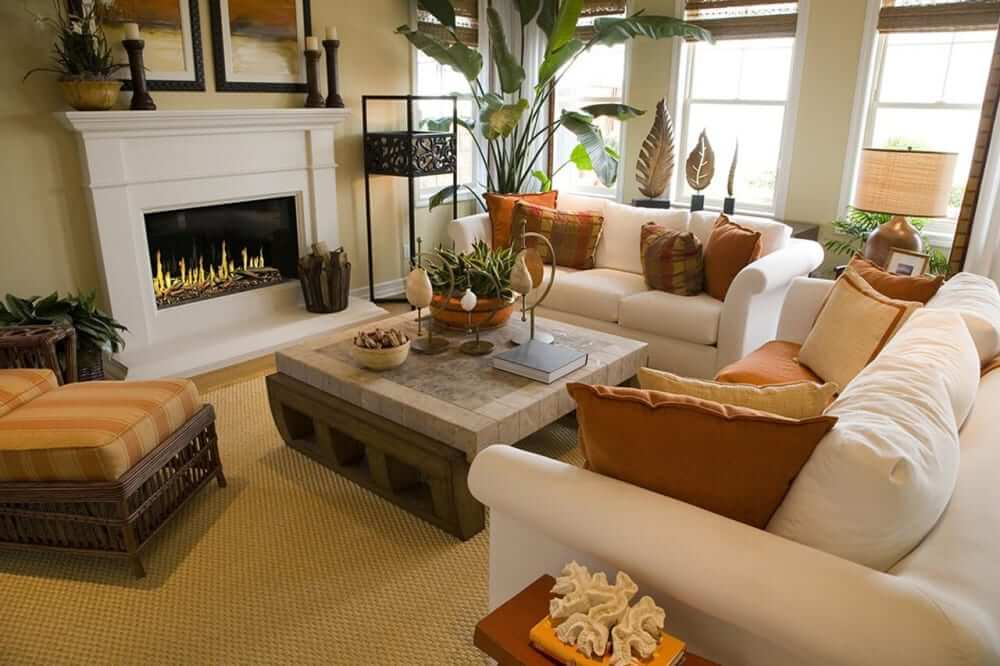 Electric fireplaces are a fantastic, energy-efficient choice that brings a modern touch to any home. With their ultra-realistic flame patterns and cutting-edge technology, they can compete with the warmth provided by traditional wood and gas systems. Whether you're considering a sleek, modern electric wall fireplace or a space-saving electric corner fireplace, these fireplaces offer a hassle-free installation process and require virtually no maintenance.
If you're seeking a perfect blend of the traditional glow of a fireplace with the convenience of modern technology, then an electric fireplace with a heater could be your ideal match.
Gas Fireplaces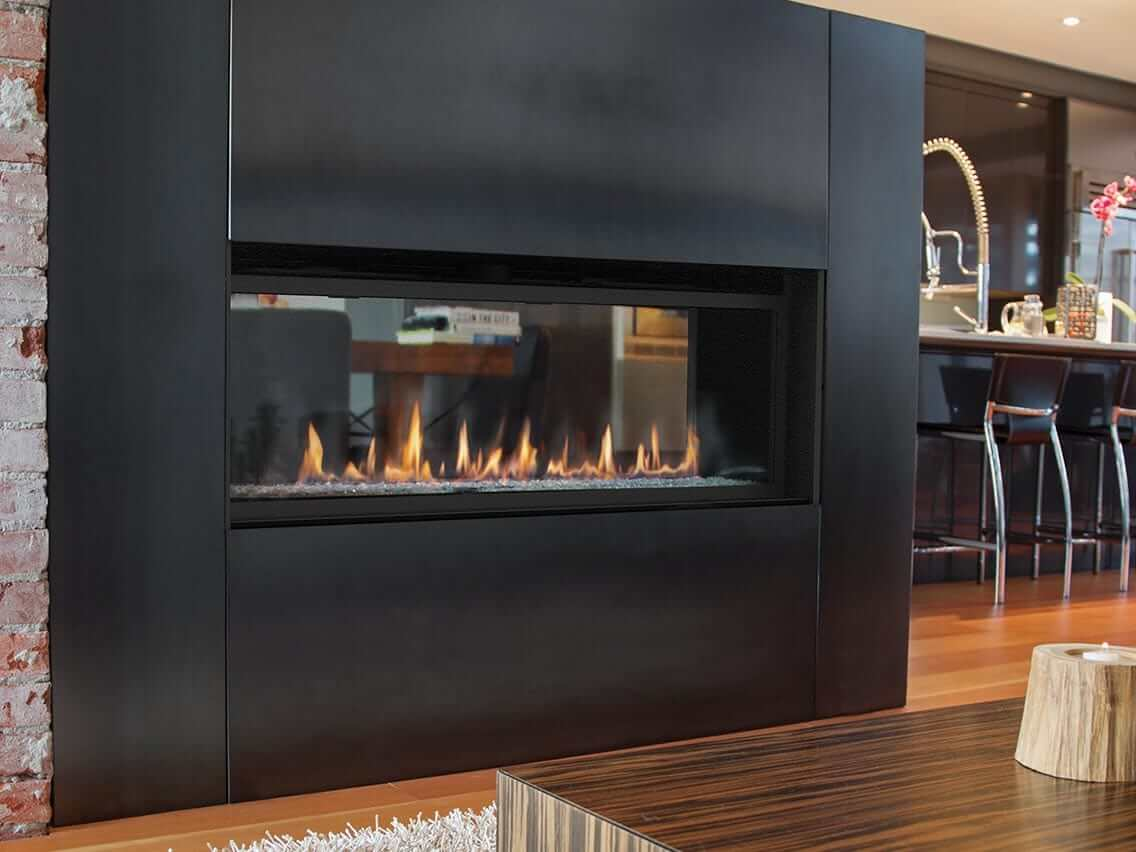 If the cozy, traditional warmth of a fireplace is what you're after, minus the mess and the maintenance, a gas fireplace could be the perfect solution for you. Offering a clean-burning and highly convenient alternative, gas fireplaces come in a variety of installation options including:
With an array of styles and sizes available, gas fireplaces can be seamlessly integrated into your living space, striking the perfect balance between convenience and comfort, while adding the warm, inviting ambiance that only a fireplace can provide.
Wood Burning Fireplaces
For those who value the classic, cozy ambiance and natural heat source of a wood-burning fireplace, there is simply no substitute. These fireplaces, available in traditional styles, wood stoves, and wood-burning stove inserts, offer a cost-effective and time-honored solution for home heating.
However, safety measures like correct installation, routine inspection, and regular cleaning are of utmost importance for the safe and effective functioning of your fireplace. With a wood-burning fireplace, you can bask in the warm glow and soothing crackling sounds of a real fire, creating an irresistibly cozy atmosphere in your home.
Fireboxes
Fireboxes offer versatility and easy installation, making them an excellent option for homeowners seeking a customizable fireplace solution. These durable metal boxes can be used with wood, gas, or electric fuel sources and are typically constructed from materials such as steel or cast iron.
Choosing a firebox requires careful consideration of the following aspects:
Ventilation - Ensuring your fireplace has proper airflow to function efficiently and safely.

Size and shape - Choosing the right dimensions and design to fit your space and aesthetic.

Heat output - Considering how much heat the fireplace can produce to meet your heating needs.

Safety features - Including protective barriers, automatic shut-offs, and other features to ensure safe operation.
With the right firebox, you can create a tailored fireplace decor that suits your needs and enhances your living space.
Enhancing Your Living Space with Fireplace Design
With a diverse array of fireplace designs, you can transform your living space into a warm and inviting haven. Some popular fireplace designs include:
tv stand with fireplace

Fireplace inserts

Outdoor fireplaces
Fireplace designs do more than just provide warmth; they also enhance your home's aesthetic appeal. Integrating your fireplace into your home design can create a stunning focal point. Adding unique elements, like custom architectural features or bold wall colors, can give your fireplace a fresh and vibrant look. With the right design, your fireplace can be a year-round centerpiece that enhances your living space.
Fireplace TV Stands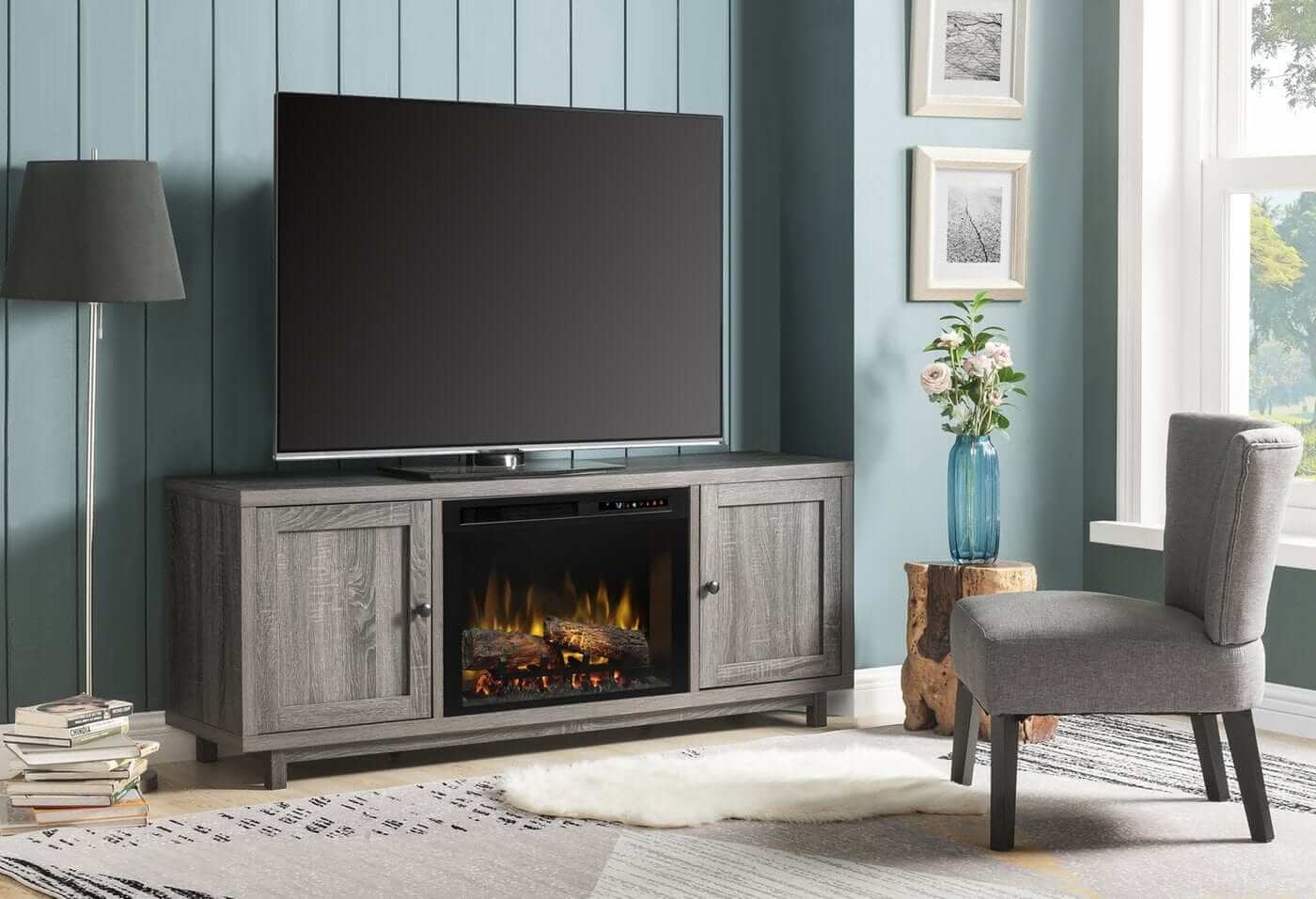 Featured: Dimplex Jesse Media Console Electric Fireplace - XHD Firebox GDS26G8-1908IM
Fireplace TV stands are a stylish and functional choice for your living room. They not only provide warmth but also serve as a platform for your TV, a perfect two-in-one solution. With a range of styles and materials, you can find a corner fireplace TV stand that complements your home's décor. For a modern look, consider a fireplace TV wall. It provides the same functionality with a minimalist design, enhancing the aesthetic appeal of your room.
Fireplace Inserts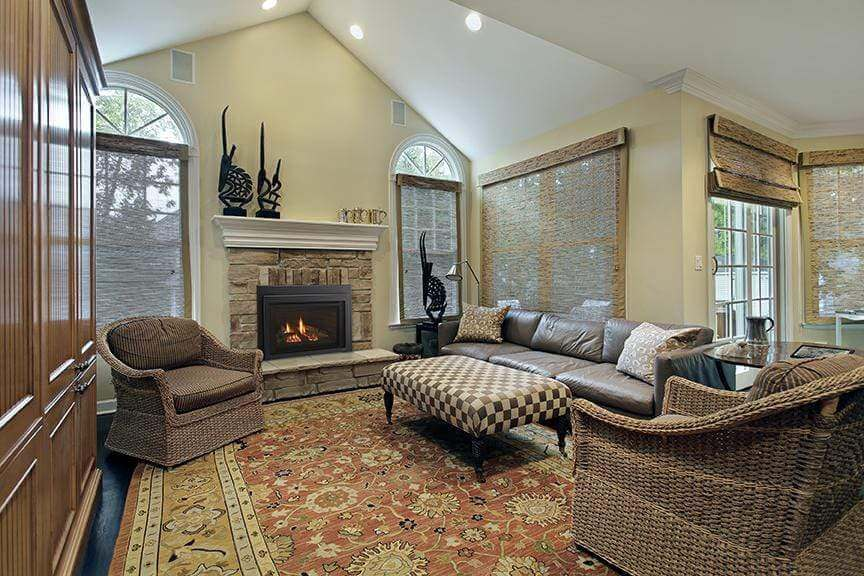 Whether you're looking to upgrade an existing fireplace or create a new one in a non-traditional space, fireplace inserts can provide an efficient and stylish solution. Available in gas, electric, or wood-burning options, these inserts can improve the efficiency of your fireplace by reducing heat loss and providing a more efficient burning process.
With a variety of styles and features to choose from, fireplace inserts can help you achieve the perfect balance of form and function in your living space.
Featured: Majestic Jasper 30" Direct Vent Gas Fireplace Insert JASPER30IN
Outdoor Fireplaces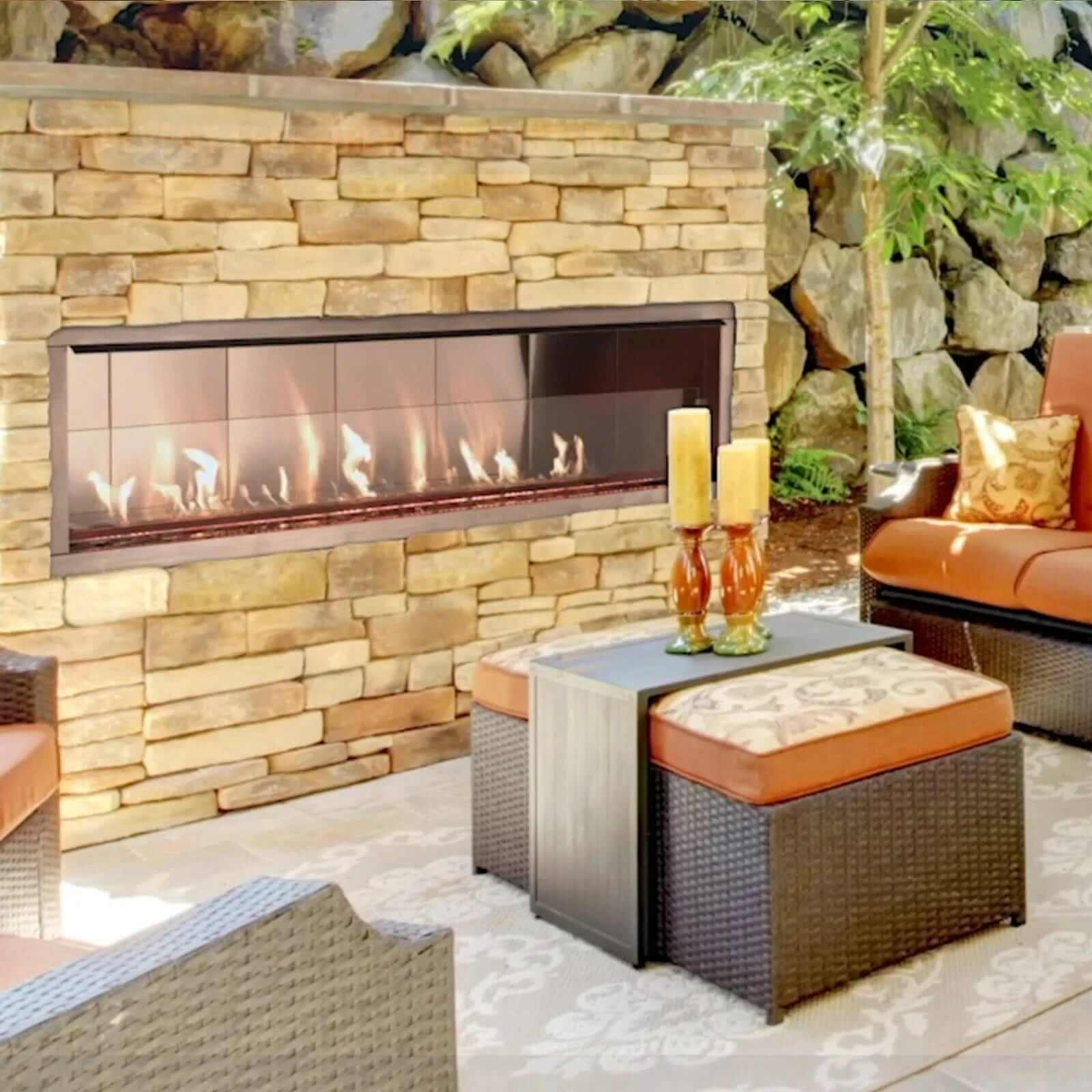 Featured: Superior 60" Contemporary Vent-Free Linear Outdoor Fireplace ODLVF60ZEN
For more detailed information about the best outdoor fireplaces today, have a look at this article: Best Outdoor Fireplace 2023: Ultimate Excellence for your Space
Extend your living area and create a unique gathering spot with an outdoor fireplace. Providing warmth and comfort on cooler evenings, these fireplaces can enhance your outdoor space and even increase your property value.
Incorporating design elements like a tiled archway or a cozy seating arrangement around the fireplace can make your outdoor area more inviting and visually appealing. Remember to follow safety tips, such as proper installation, inspection, and keeping combustibles at a safe distance, to ensure a safe and enjoyable outdoor fireplace experience.
Indoor Fireplaces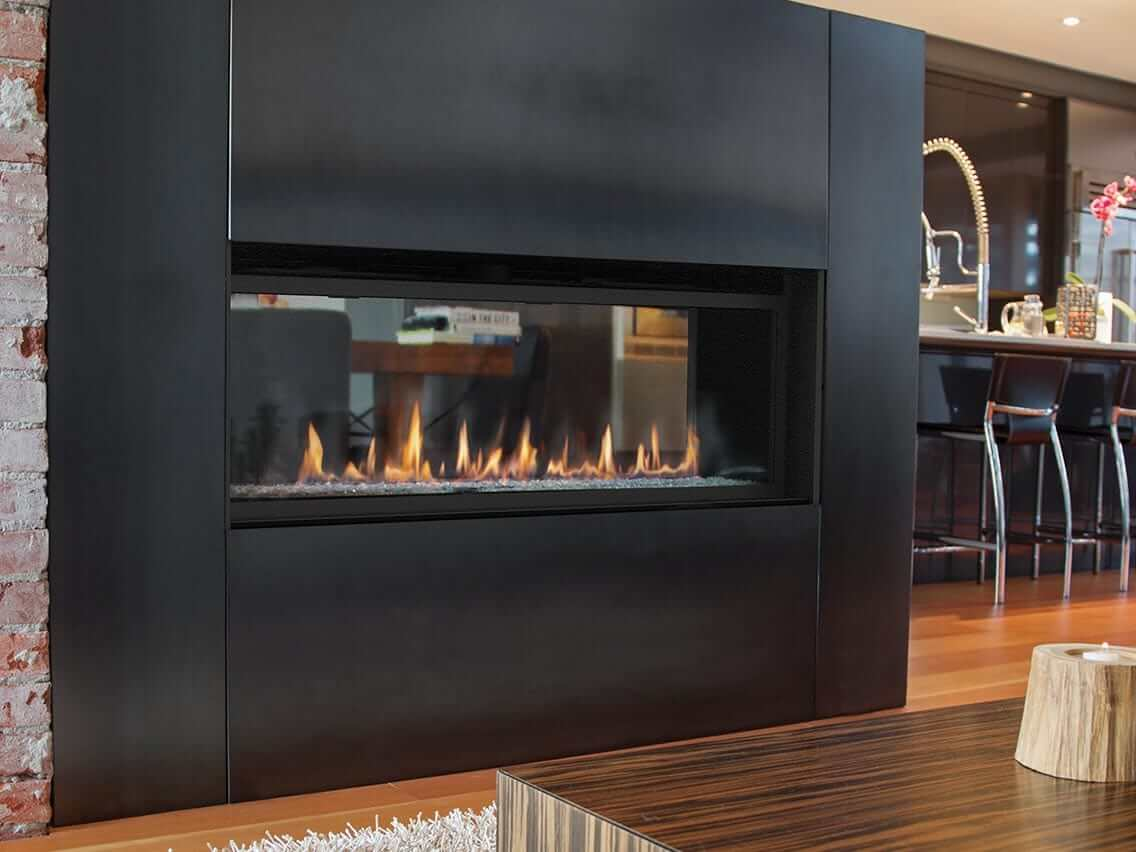 Featured: Superior DRL6000 Series 84" Linear Direct Vent Gas Fireplace DRL6084TEN
Indoor fireplaces can be customized to fit any room's aesthetic and design, making them a versatile option for homeowners. By selecting the right size, shape, and style, you can create a fireplace that complements your living space and serves as a stunning focal point.
For example, consider painting the walls around your fireplace an unexpected hue and adorning the area with eclectic furnishings, contemporary art, and avant-garde lighting fixtures. With the right design, your indoor fireplace can become a stylish centerpiece that enhances your home's ambiance.
Fireplace Accessories and Mantels
Accessories not only enhance the aesthetic appeal of your fireplace but also improve its functionality and safety. By choosing the right accessories for your fireplace type, room size, and desired aesthetic, you can create a stunning focal point that elevates your home's design.
It's vital, though, to handle fireplace accessories with care and responsibility in order to avoid accidents and ensure the best performance of your fireplace. By following safety guidelines and adhering to proper installation and maintenance practices, you can protect your home and family while enjoying the warm glow of your fireplace.
Stylish Fireplace Mantels
Stylish fireplace mantels provide a platform for displaying art and decor, allowing you to personalize your fireplace and enhance its visual appeal. They are available in various materials. Fireplace mantels can be chosen based on the size and shape of your fireplace, as well as your desired aesthetic. In addition to their decorative function, mantels can offer additional safety features when installed and used correctly. By selecting the right mantel for your fireplace, you can create a stunning focal point that elevates your home's design.
Fireplace Burners
Fireplace burners play a crucial role in ensuring efficient and even heat distribution for your fireplace. These devices come in traditional, contemporary, and modern designs, and can be tailored to fit your specific needs and preferences.
When selecting a fireplace burner, consider factors like the fireplace's size, type of fuel used, and safety features to ensure optimal performance and longevity. With the right fireplace burner, you can enjoy consistent warmth and an enhanced fireplace experience.
Fireplace Safety Tips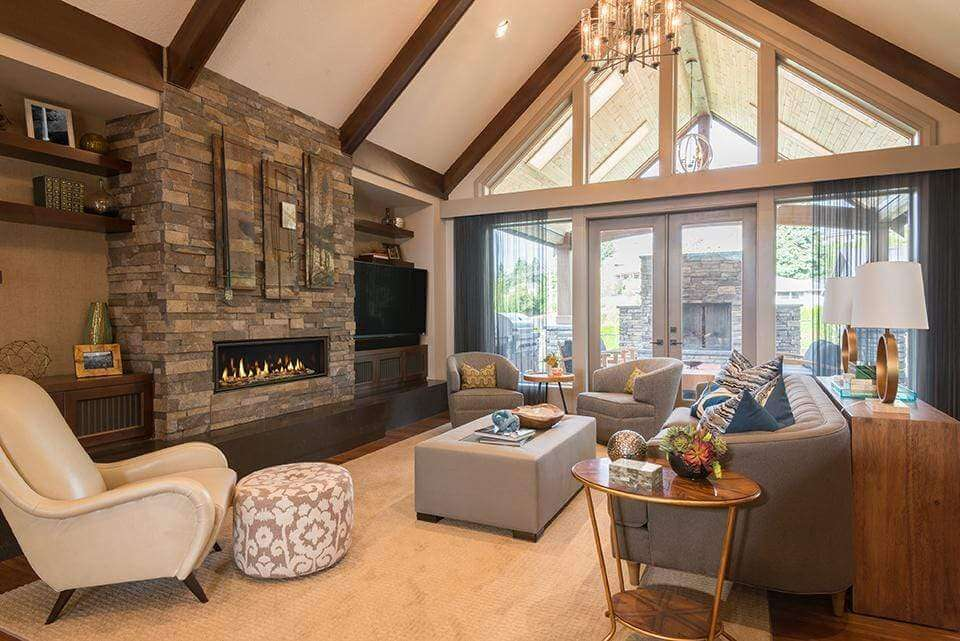 Protecting your home and family should always be a top priority when using a fireplace. Adhering to safety tips like correct installation, routine inspection, and safe accessory usage can guarantee the safe and efficient functioning of your fireplace. It's important to remember that even the most beautiful and well-designed fireplace can pose a risk if not used and maintained correctly. So, always prioritize safety in every aspect of your fireplace experience.
Beyond correct installation and inspection, it's crucial to handle fireplace accessories with care and responsibility. Here are some safety tips to follow:
Keep combustibles at a safe distance from your fireplace.

Employ the appropriate tools when handling the fire.

Adhere to proper safety guidelines to prevent accidents and damage to your home.
By adhering to these safety guidelines, you can bask in the comforting glow and ambiance of your fireplace, ensuring the safety and well-being of your family, all while enhancing your living space.
Proper Installation and Inspection
For optimal safety, it's critical to ensure your fireplace is installed and inspected by a professional. A professional can spot potential issues and verify that the installation meets all safety regulations and standards. This approach not only enhances the safety of your home but also improves the longevity and performance of your fireplace, making it a worthwhile investment for homeowners.
Proper installation and inspection involve a range of steps, including:
Functional installation - This involves ensuring that the fireplace and all its components are correctly assembled and set up, which is a critical step in the installation process. It's not just about putting pieces together; it's about making sure everything is in its right place and functioning as it should. This ensures that the fireplace operates efficiently and safely, providing you with the warmth and comfort you seek without any hitches.

Damage or wear and tear evaluation - Checking for any signs of damage or excessive wear that may impact the fireplace's performance.

Adherence to regulations - Confirming that the installation complies with all relevant safety standards and regulations.

Accurate positioning - Make sure the fireplace is positioned correctly within your space to maximize efficiency and safety.

Leak or corrosion detection - Inspect the fireplace and its components for any leaks or signs of corrosion.

Appropriate sizing - Ensuring the fireplace is the right size for the room and the venting system.

Infiltration prevention - Checking that the installation prevents cold air from entering the home when the fireplace isn't in use.

Comprehensive assessment of the entire installation process - A complete review of the installation to ensure every aspect has been carried out correctly.
By entrusting your fireplace installation and inspection to a professional, you can have peace of mind knowing that your fireplace is safe and secure.
Year-Round Fireplace Use
Your fireplace can serve as a beautiful focal point in your home, even when it's not in use. By making your fireplace a centerpiece of your home's design, you can maintain an inviting and visually pleasing space throughout the year.
Consider utilizing unique lighting options, decorative logs, and other accessories to enhance your fireplace's appearance and create a cozy ambiance regardless of the season. With the right design and accessories, your fireplace can continue to elevate your living space all year long.
Summary
In conclusion, elevating your space with the perfect fireplace and accessories is not only achievable but can also transform your home into a warm, inviting, and stylish retreat. By understanding the different types of fireplaces, their designs, and essential safety tips, you can make an informed decision that suits your taste, needs, and budget. Furthermore, incorporating your own fireplace decor ideas into your home's design, utilizing heat-resistant materials, and prioritizing safety can ensure your fireplace remains a stunning centerpiece and source of warmth throughout the year. So, go ahead and create the ultimate cozy ambiance in your home with the perfect fireplace and accessories.
Frequently Asked Questions
What are the main differences between electric, gas, and wood-burning fireplaces?
Electric fireplaces are energy-efficient and easy to install, gas fireplaces offer a clean-burning and convenient alternative, while wood-burning fireplaces provide a classic, cozy ambiance and natural heat source.
How can I enhance my fireplace's design and make it a focal point in my room?
Enhance your fireplace's design by incorporating unique architectural features, using decorative logs and accessories, and selecting a stylish mantel. This will create a stunning focal point in your room.
What safety precautions should I take when using my fireplace and its accessories?
To ensure a safe fireplace experience, be sure to have your fireplace properly installed and inspected, use all accessories carefully, and keep combustibles far away.
How can I maximize the heat and efficiency of my fireplace?
Maximize the heat and efficiency of your fireplace by utilizing fireplace inserts, proper venting and flue maintenance, and heat-resistant materials.
Can I use my fireplace as a focal point even when it's not in use?
Yes, you can use your fireplace as a focal point even when not in use by utilizing lighting and accessories to create an inviting atmosphere.
Why Choose Flame Authority?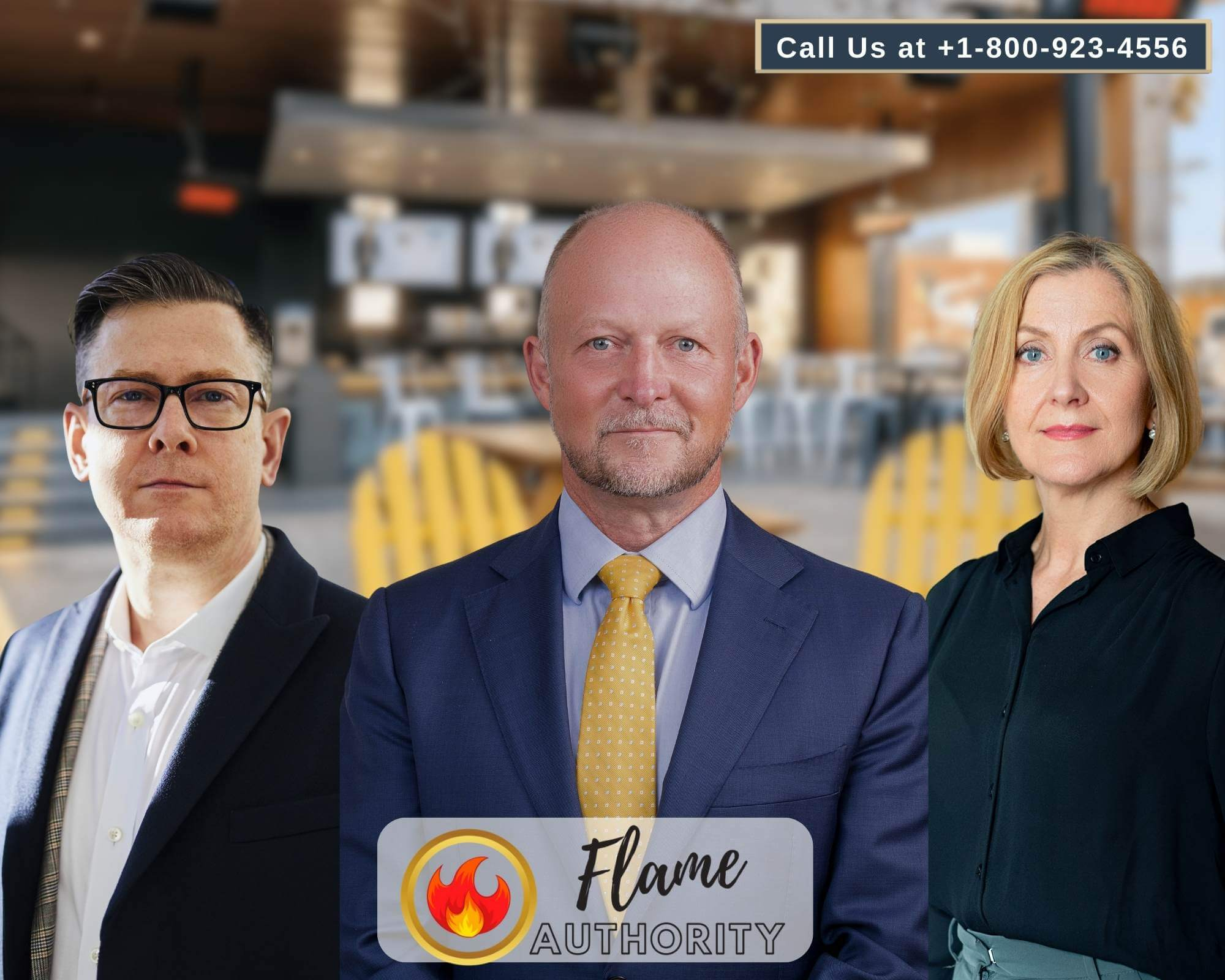 At Flame Authority, we prioritize our customers and their needs. For any inquiries or assistance, feel free to reach out to our dedicated customer support team at +1-800-923-4556 or email us at support@flameauthority.com. We're always here to help!
---