How to Choose the Best Electric Outdoor Heater 2023
Imagine having a cozy and warm outdoor space where you can enjoy the beauty of nature, even on chilly nights. Electric outdoor heaters make this dream a reality! Not only do they provide a comfortable temperature for your patio, but they're also energy-efficient and easy to use. In this blog post, we'll guide you through the world of electric outdoor heaters, helping you choose the best one for your needs. Get ready to transform your patio into a year-round oasis with an electric outdoor heater!
Key Takeaways
Understand the advantages of electric outdoor heaters and select based on size, installation style, key features, and brand.

Top brands in the electric outdoor heater industry that are renowned for their quality and performance.

Ensure safe operation with built-in safety features Regularly inspect & clean for optimal performance & durability of your electric outdoor heater.
Understanding Electric Outdoor Heat
Electric patio heaters have emerged as a preferred choice for heating outdoor spaces, owing to their user-friendly nature and versatility in comparison to propane or natural gas heaters. An electric patio heater offers immediate warmth, which can be adjusted remotely, ensuring your guests are always comfortable. In addition, electric patio heaters are well-regarded for their reliability and effectiveness, making them a top choice for your outdoor heating needs.
Ready to dive into the world of these fantastic heaters and discover their unique benefits?
Advantages of Electric Heaters
Electric outdoor heaters are energy-efficient and cost-effective, converting nearly all consumed electricity into heat. They're convenient to use, with remote control options and minimal setup requirements. Space-saving wall-mounted electric patio heaters are ideal for smaller areas, and they come with safety features like automatic shut-off and tip-over protection.
Types of Electric Outdoor Heaters
Outdoor Electric Heater Wall mounted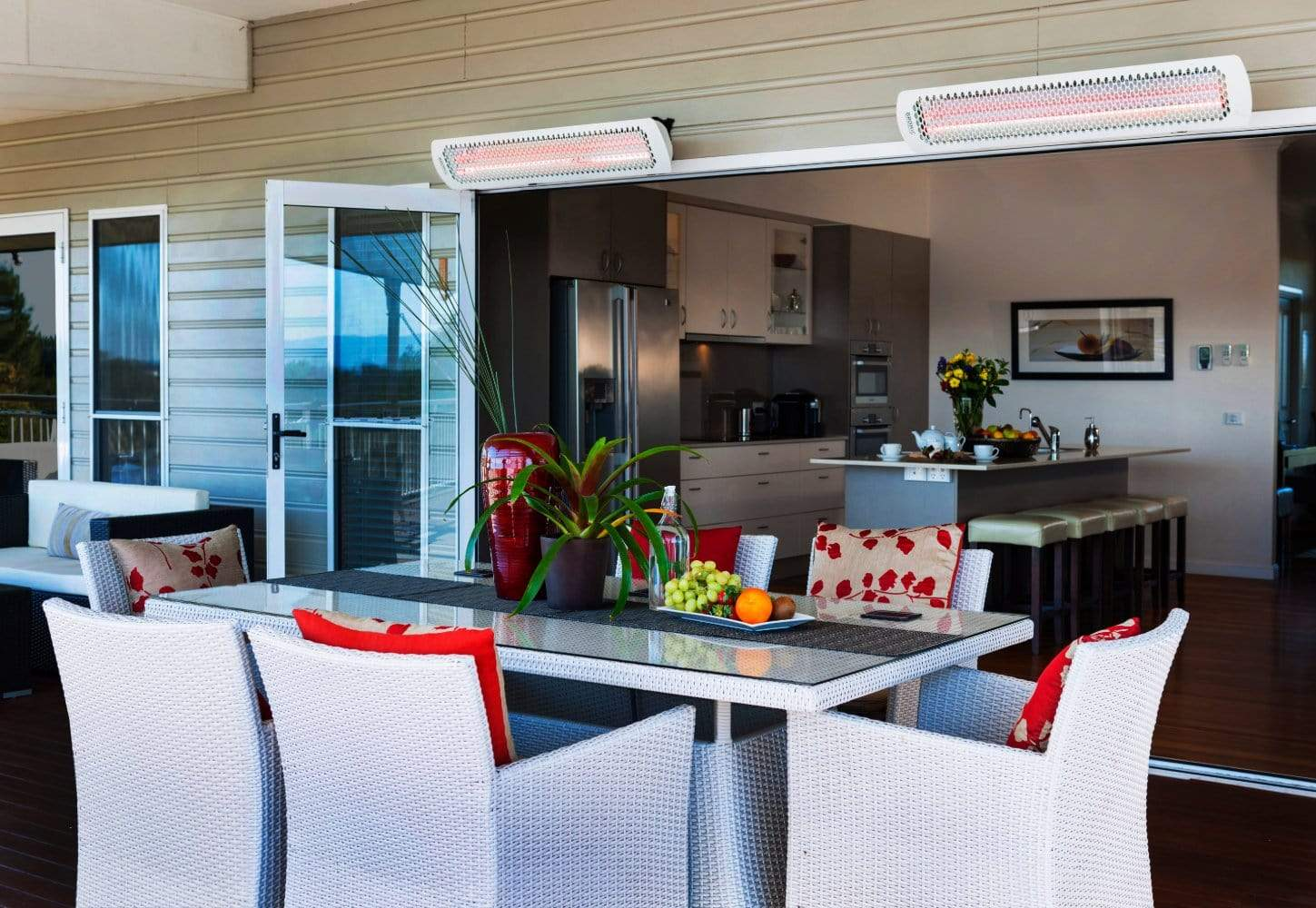 Wall-mounted electric outdoor patio heater are ideal for small patios or balconies where floor space is at a premium. They can be installed on walls or structures like pergolas or gazebos. This type of heater is a perfect solution for those who want to maximize their outdoor living space without sacrificing comfort. With their sleek design, they can blend seamlessly into your outdoor decor, creating a warm and inviting atmosphere.
Key features include:
Hassle-free and secure setup: Setting up a wall-mounted electric heater is straightforward with the included guide and mounting hardware. If you're unsure, consider hiring a professional for safe installation and optimal heater performance.

Durable and Weatherproof: Wall-mounted electric heaters are made from robust materials like stainless steel or aluminum, ensuring durability and weather resistance. They can withstand various weather conditions, including rain, snow, and intense sunlight, making them a reliable and long-lasting outdoor heating solution.

Quiet Operation: Electric outdoor heaters operate silently, making them perfect for peaceful outdoor spaces without noise distractions.

Quick to heat: Electric outdoor heaters provide instant warmth, making them highly efficient and ideal for immediate use in colder conditions.

Remote control operation: The convenience of controlling your heater from a distance makes this feature a must-have. You can adjust the heat settings without getting up from your comfortable spot. This also allows you to control the heater if it's installed in a high or hard-to-reach place.

Adjustable heating angle: This feature allows you to direct the heat where it's most needed, ensuring that no corner of your outdoor space is left cold. It's especially useful for larger patios or gardens where heat needs to be distributed over a wide area.

Compact design: A compact design is essential for space-saving and aesthetic purposes. It allows the heater to blend in with your outdoor decor seamlessly. It's also easier to install and move around, making it perfect for small patios or balconies.
Drop Pole Electric Heaters: Portable and User-friendly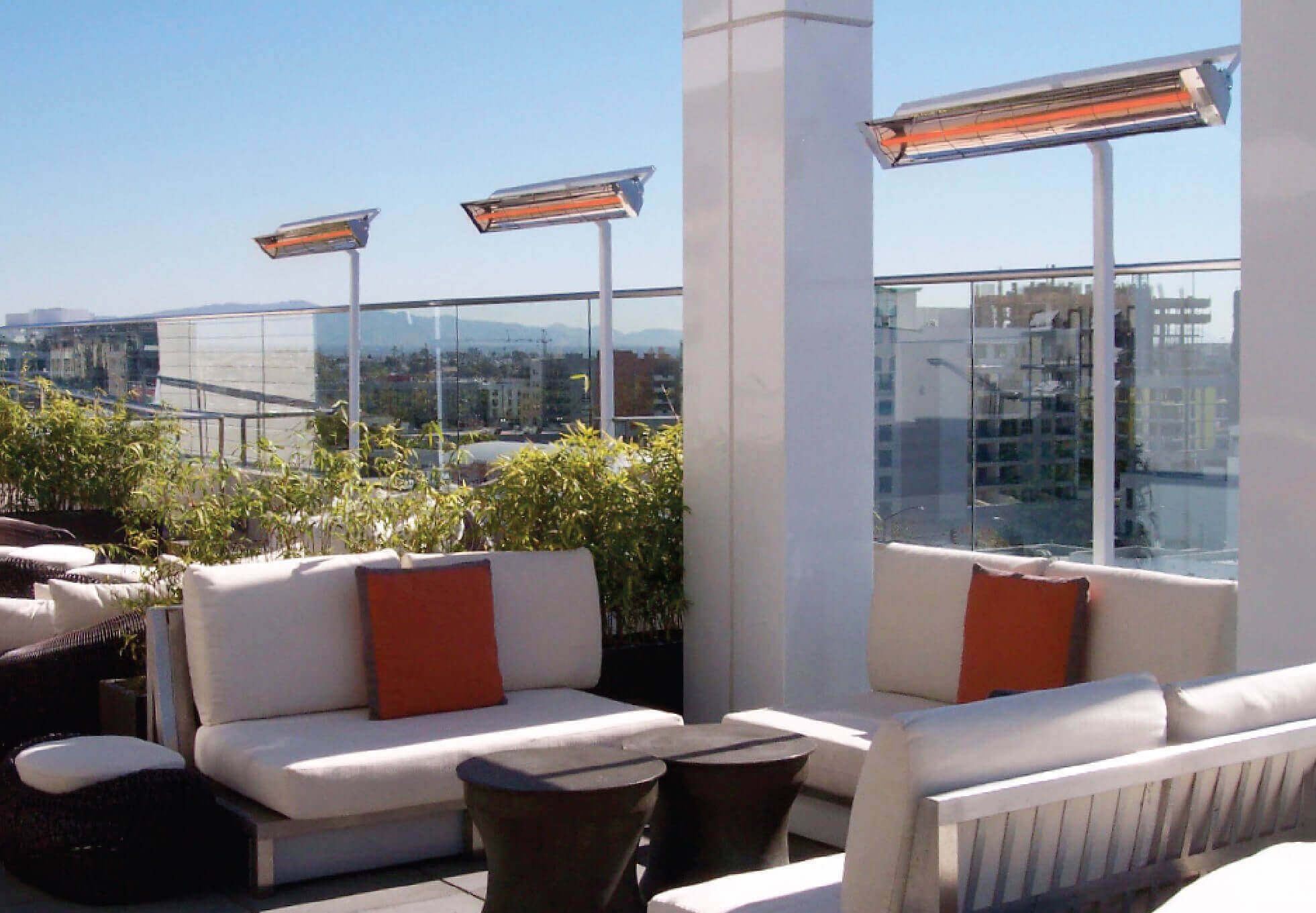 Drop pole electric heaters, also known as free-standing heaters, provide flexible and efficient heating for outdoor spaces. These portable units are easy to set up and adjust, offering immediate warmth with adjustable heat settings. Built with weather-resistant materials, drop pole heaters are durable and designed to withstand outdoor elements. Safety features such as a tip-over switch and safety guard are typically included. Available in various styles, these heaters can seamlessly blend into any outdoor decor.
Recessed Electric Patio Heaters: Efficient and Space-Saving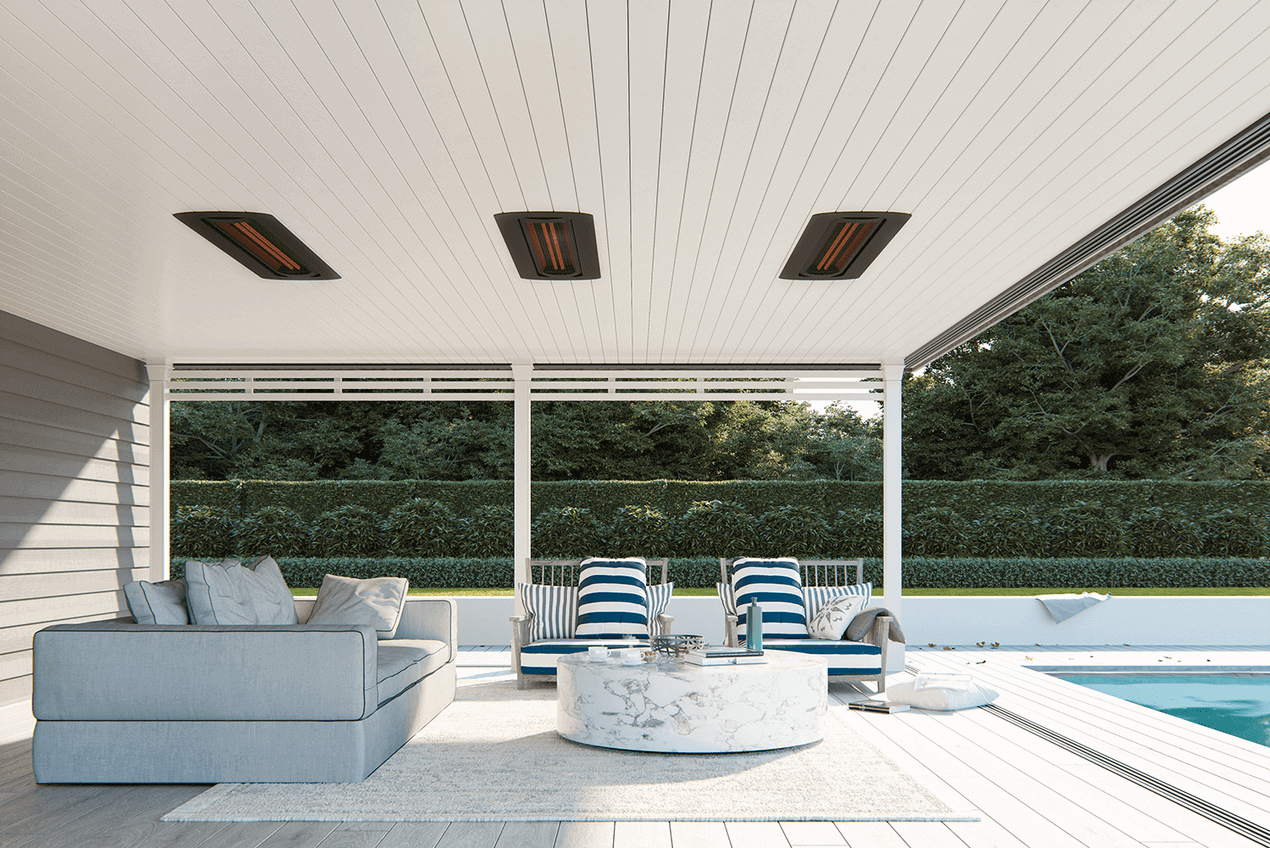 Recessed electric patio heaters are ideal for those seeking a sleek, integrated heating solution. Installed into the ceiling or wall, they save space and blend seamlessly with outdoor decor. These heaters are efficient, converting most consumed electricity into heat, making them an eco-friendly choice. Easy to operate, often with remote controls, they feature safety elements like automatic shut-off and cool-to-the-touch surfaces. For a stylish, efficient, and space-saving heating option, consider a recessed electric patio heaters.
Keep in mind that wall-mounted heaters may require a professional installation, especially if hardwiring is necessary.
Key Features to Look for in an Electric Outdoor Heater
Having explored the different types of electric outdoor heaters, it's essential to highlight the key characteristics to bear in mind when choosing the best electric heater for a house.
Key considerations for outdoor portable heaters should include heat output and coverage, safety features, and the aesthetics and design of the outdoor electric heater reviews.
Heat Output and Coverage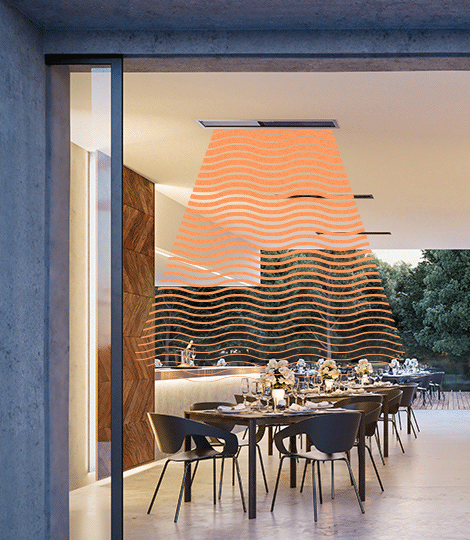 When choosing an electric outdoor patio heater electric part, it's essential to consider the heat output, coverage, and heat settings. The size of your outdoor space and the heater's wattage and heating element type will guide your choice. Typically, outdoor patio heaters can heat areas within a 5 to 15-foot range, but this can vary based on the model and its power.
To calculate the necessary wattage for your patio heater, multiply your outdoor area in square feet by 10. For an outdoor heater lamp, for instance, a 200-square-foot patio would require a 2,000-watt heater. Picking the right heater ensures efficient and effective heating for your outdoor space.
Safety Features
Safety should be paramount when choosing an electric outdoor heater. Opt for heaters with safety features like automatic shut-off, tip-over protection, and cool-to-the-touch surfaces to prevent accidents and ensure safe use.
It's also important to select a heater with safety certifications like ETL or UL. These certifications show that the heater has undergone testing and meets safety standards, giving you peace of mind.
Design and Aesthetics
When choosing an electric outdoor heater, performance and safety are key but don't overlook style. A heater that aligns with your outdoor decor enhances your patio's atmosphere. Consider the size, color, and shape of your best outdoor heater for your patio.
Free-standing heaters are practical, while wall-mounted heaters offer more aesthetic appeal. Whatever your preference, there's an electric outdoor heater to match your style and requirements.
Top Electric Outdoor Heater Brands of 2023
Given the wide range of electric outdoor heaters on the market, finding the right brand best patio heaters to fit your needs can be a daunting task. In 2023, the leading brands of electric patio heaters include:
These distinguished brands are celebrated for their superior build quality, reliable performance, and exceptional customer satisfaction ratings.
Each of the best outdoor heaters from these top-tier brands offers a diverse range of models, each with unique features and designs, ensuring that you can find the ideal electric outdoor heater tailored to your specific needs. Whether you're in the market for a free-standing heater with a chic design or a wall-mounted heater known for its remarkable heat output, these leading brands have a solution for you.
Installation and Maintenance Tips
After selecting the perfect electric outdoor heater, it's vital that it's properly installed and maintained for optimum performance and durability. For a safe and secure installation of a portable heater outdoor only, it's critical to follow the prescribed electrical codes and maintain appropriate clearance from combustible materials.
Installation Considerations
When installing your electric outdoor heater, make sure to position it at least 3 feet away from any combustible materials, such as furniture, walls, and plants. This ensures a safe clearance and minimizes the risk of accidents.
Select the one that best fits your outdoor space and your outdoor electric heater for patio type.
Maintenance and Cleaning
For your electric outdoor heater to last longer and perform better, clean it regularly. Wipe the exterior with a clean cloth and use a vacuum or brush for the interior. Always keep power cords dry and out of the way. If the heating element burns out, replace it instead of trying to fix it.
Summary
Choosing the best electric outdoor heater may seem daunting, but by considering the various types, key features, top brands, and installation and maintenance tips, you'll be well-equipped to make an informed decision on the best patio heater. Remember the importance of heat output and coverage, safety features, and design and aesthetics when selecting the perfect outdoor heater electric one for your outdoor space.
Choosing the right electric outdoor heater can turn your patio into a year-round haven of warmth and relaxation. Revel in the comfort and heat it provides, secure in the knowledge that you've selected a smart, energy-saving, and stylish addition to your home with the best outdoor electric patio heater.
Moreover, don't forget to take a look at our specially curated guide that reviews the best outdoor heaters across all fuel types. This guide will assist you in finding the ideal heater to warm up your outdoor space. If you need assistance and exclusive discounts feel free to reach out to our team at support@flameauthority.com or call us at +1-800-923-4556.
Frequently Asked Questions
Do outdoor electric heaters work well?
Outdoor electric heaters are an energy-efficient option and can be used both in open spaces or covered areas, depending on the manufacturer's specifications. They use infrared or halogen light to project heat, which is over 90% efficient and more environmentally friendly than other outdoor heating lamps and options.
Are outdoor electric heaters worth it?
Outdoor electric heaters are a worthwhile investment. They offer a safe, cost-effective, and environmentally friendly heating solution for your outdoor space. They provide controlled warmth, accommodate various furniture layouts, and don't require ventilation.
What is the best way to heat a covered patio?
Electric space heaters are an ideal, easy-to-use solution for heating covered patios. They are portable, quickly heat large areas, and are perfect for outdoor use during colder months.
What is the main advantage of electric outdoor heaters compared to propane or natural gas heaters?
Electric outdoor heaters stand out as a more energy-efficient, user-friendly, and cost-effective solution compared to propane or natural gas heaters. Their safety features, zero emissions of harmful gases, and low maintenance requirements make them an environmentally friendly and smart choice for outdoor heating.
---