Creating the Perfect Outdoor Fireplace: Ideas & Inspiration
Imagine a cozy evening in your backyard, gathered around a crackling fire with your friends and family, sharing stories and laughter under the starry sky. Sounds perfect, doesn't it? An outdoor fireplace can transform your outdoor living space into an inviting, warm oasis for relaxation and entertainment. In this blog post, we'll guide you through the process of choosing, designing, and maintaining the perfect outdoor fireplace that suits your space, style, and needs.
Key Takeaways
Choose the perfect outdoor fireplace to fit your space, style and budget.

Design with inspiration from a range of designs and materials for optimal warmth & safety.

Enhance your outdoor living area with accessories while caring for it regularly!
Choosing the Right Outdoor Fireplace for Your Space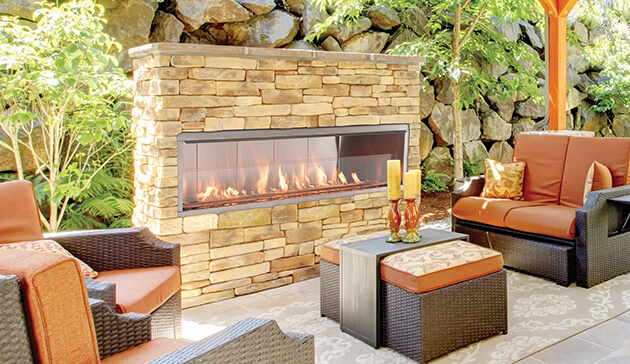 When it comes to outdoor fireplaces, there's a variety of options to choose from, each with its unique advantages and aesthetic appeal. 
First, consider the fuel type that best suits your needs. Wood, propane gas, natural gas, and ethanol are all popular choices, with gas fireplaces being a trendy and efficient option. 
Next, think about the style of the outdoor fireplace for deck. Traditional and modern outdoor fireplace ideas can both beautifully enhance your outdoor living space, depending on your preferences.
Finding the perfect and best outdoor fireplace for home also involves considering factors like:
Space:
Ensure enough room for your outdoor fireplace and seating while maintaining safety distances.
Budget:
Invest wisely! Choose an outdoor fireplace that not only fits your budget but also adds a touch of elegance to your backyard, promising a high return on investment.
Style:
Choose a fireplace style that reflects your taste and complements your outdoor space.
Brand:
Choose a reputable brand for quality, durability, and excellent customer service.
Fuel Type:
Choose from wood, propane, natural gas, or ethanol to fuel your ideal outdoor fireplace.
Dimensions:
Consider the size of your outdoor fireplace for optimal fit and safety.
Lifespan:
Choose an outdoor fireplace that offers long-lasting durability.
Maintenance:
Regular upkeep ensures your outdoor fireplace's safety and longevity.
Whether you prefer the rustic charm of a stone fireplace, the sleek design of a gas fireplace, or the cozy warmth of a traditional open fire, there's an outdoor fireplace that will become the focal point of your outdoor gathering areas.
Designing Your Backyard Fireplace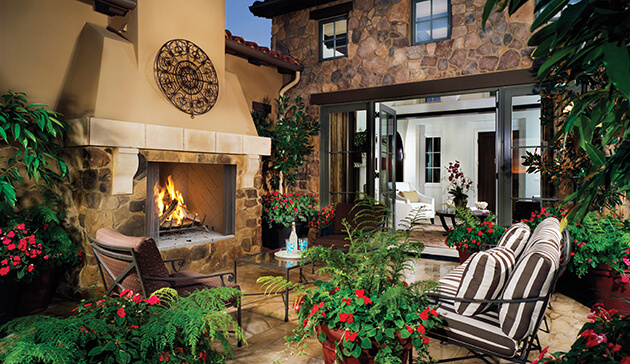 Once you've chosen the type and style of your outdoor fireplace, look into various designs for inspiration. From the Bali Outdoors Wood Burning Chimenea, which directs smoke upwards, to the refined linear outdoor fireplaces, there's a design for every preference and backyard.
If you're into DIY, you can build your own outdoor fireplace using guides and kits. This not only saves money but also personalizes your space. Always prioritize safety when designing your fireplace.
Popular Outdoor Fireplace Materials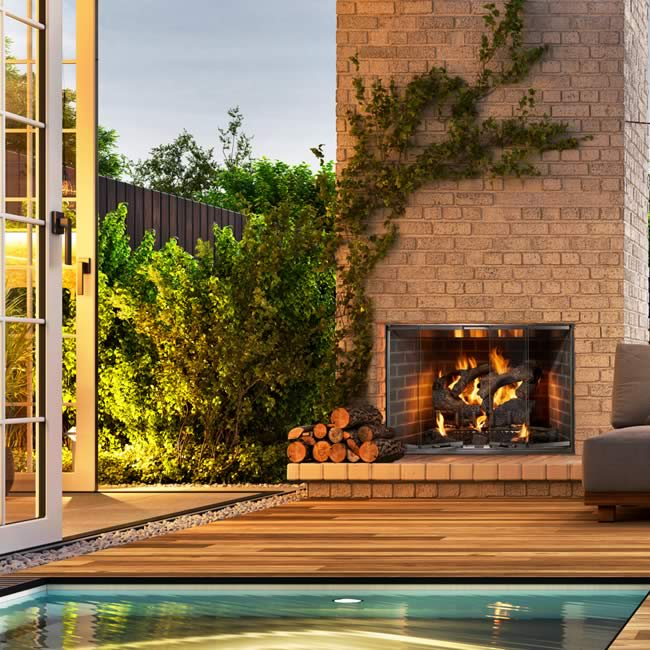 Your outdoor fireplace's durability, maintenance, and overall appearance can greatly depend on the material you choose. Stone, brick, and metal are popular choices for outdoor fireplace materials and can be tailored to fit the square footage of your outdoor living space.
Stone: The Durable Material for Outdoor Fireplaces
Featured: Superior 42" Traditional Vent-Free Outdoor Fireplace VRE6042
Stone is a durable and cost-effective material that can handle extreme temperatures with ease, making it perfect for a large outdoor fireplace or gathering areas. A stone fireplace can add rustic charm to your outdoor living space and is easy to install.
Brick: The Economical and Versatile Choice for Outdoor Fireplaces
Featured: Majestic Cottagewood 42" Traditional Outdoor Wood Burning Fireplace
Brick is an economical material that is simple to install and can be tailored to any design, including a gas outdoor electric fireplace for patio. Easy to maintain and able to withstand different temperatures, brick is a great choice for various outdoor fireplace ideas.
Metal: The Strong and Versatile Choice for Outdoor Fireplaces
Featured: RCS 72" Cedar Creek Outdoor Gas Fireplace RFP72LECONLED
Metal is a reliable material for constructing outdoor fireplaces. Its effortless installation process and high resilience to extreme temperatures make it an ideal choice for enhancing your outdoor living space. Metal is not only cost-effective but also highly customizable, making it a great choice for those seeking a modern, sleek aesthetic for their outdoor fireplace.
Traditional vs. Modern Outdoor Fireplaces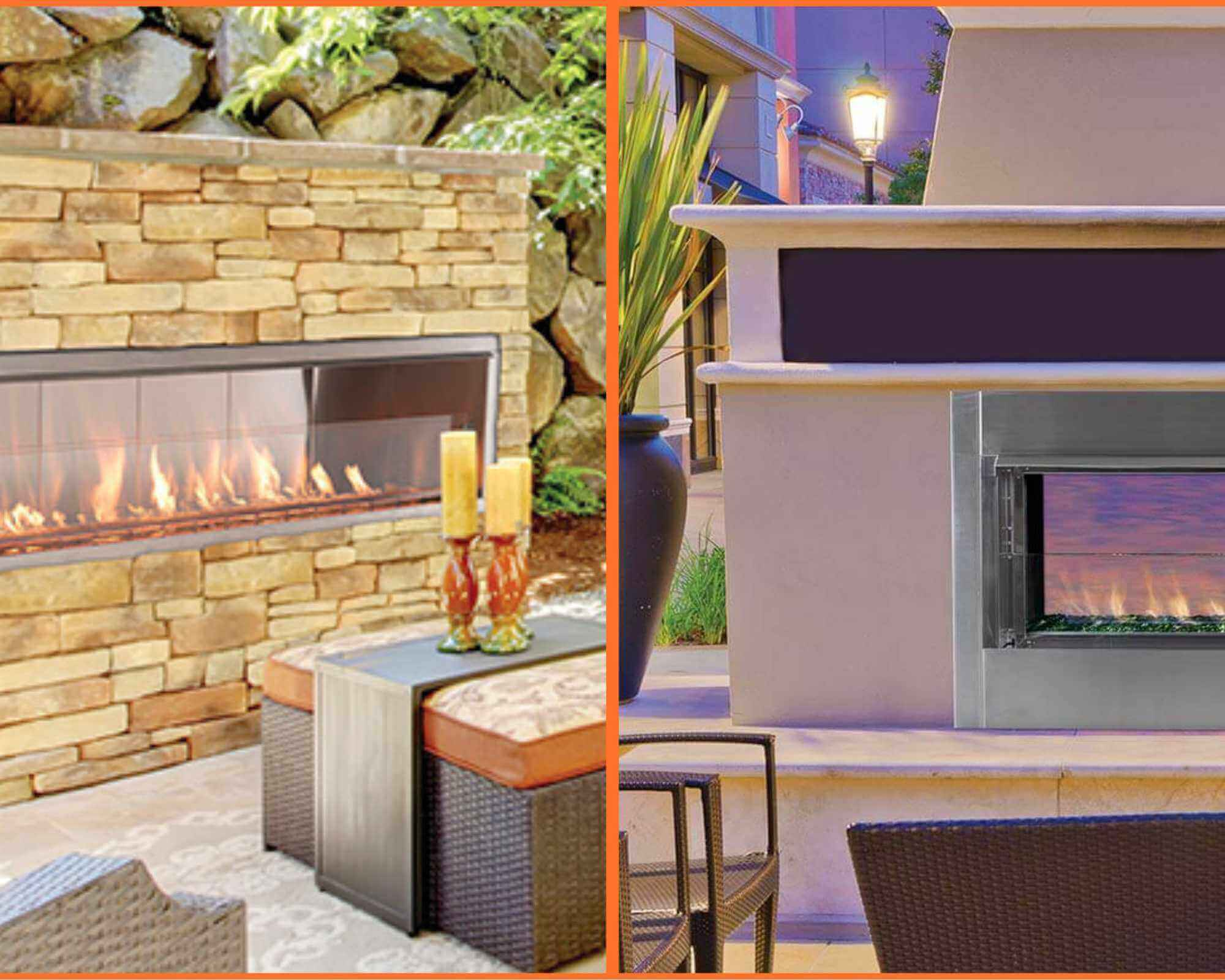 Consider exploring various outdoor fireplace style to find the perfect fit for your space:
Traditional fireplaces bring a classic and rustic aesthetic, providing comfort and beauty for outdoor gathering areas. They are known for their timeless charm and the cozy ambiance they create.
Modern fireplaces have taken the market by storm, offering increased efficiency, greater customizability, and a smaller footprint thanks to the use of advanced gas fireplace technology. They are known for their sleek designs and innovative features that push the boundaries of design.
Whether you choose a traditional or modern outdoor fireplace, it largely depends on personal preference and your outdoor space's design. Both can enhance your outdoor area. The key is to choose what best suits your style, space, and needs.
Maximizing Your Outdoor Space with a Double Duty Fireplace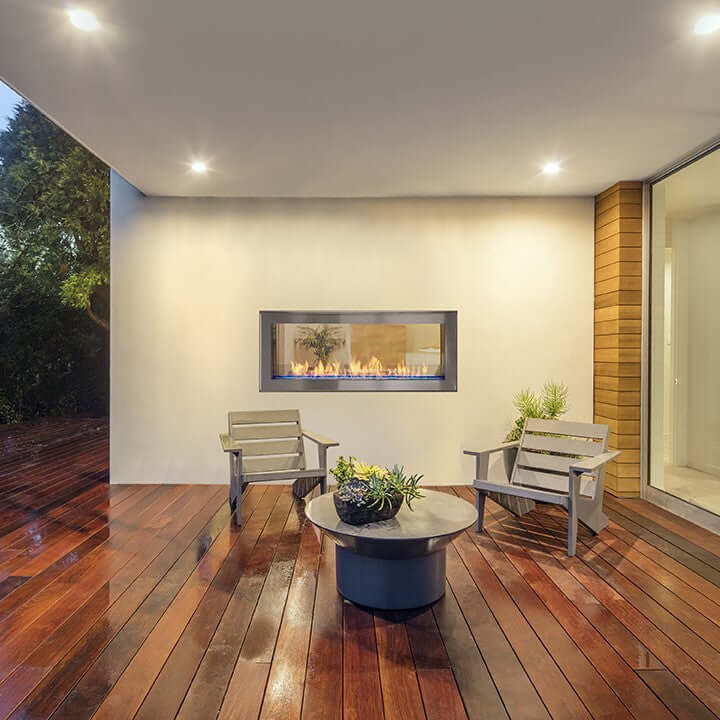 A double-duty fireplace or see-through fireplace is an incredibly versatile outdoor fireplace that can be used for both heating and practical purposes, such as a piece of furniture or cooking area, perfect for outdoor fireplace patio designs for enhancing your outdoor living space. These fireplaces not only provide warmth but also serve a functional purpose, making the most of your outdoor space and lending a cozy atmosphere and stunning focal point.
Wood-burning fireplaces, gas fireplaces, and electric fireplaces are all amazing types of double-duty fireplaces. When using a double-duty fireplace, it is important to ensure that it is installed properly and that all safety precautions are taken to ensure a safe experience. This includes:
Making sure that the fireplace is installed in a safe location

Ensuring that the fireplace is properly ventilated

Keeping all combustible materials away from the fireplace for optimal safety

Considering the square footage of your outdoor area
Safety Considerations for Outdoor Fireplaces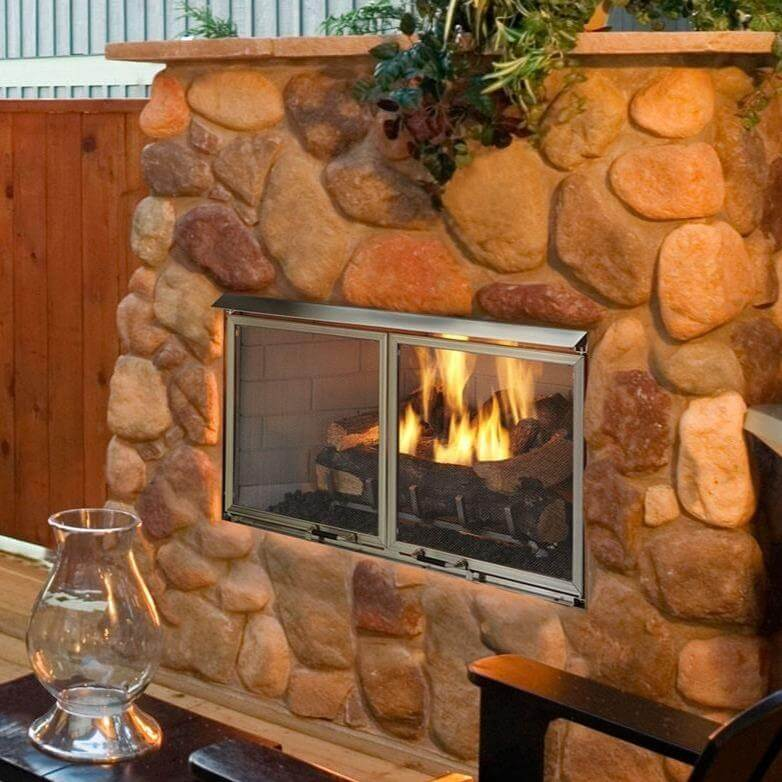 Prioritizing safety is imperative while planning and installing your outdoor fireplace. Proper placement of your outdoor fireplace is crucial for safety and enjoyment. It is recommended to maintain a distance of 20 feet minimum to 60 feet maximum between an outdoor fireplace for patio, and a house, providing plenty of space for a safe and enjoyable outdoor experience.
Adhering to the 10-3-2 chimney rules ensures that the chimney structure is at least 10 feet from the roofline of a home, providing a safe environment for an open fire. Additionally, when using DIY Concrete Fire Bowls, be sure to allow the concrete to dry completely for the best results.
Gas fireplaces are often easier to maintain compared to wood fireplaces. However, regardless of the type of gas outdoor fireplace you choose, it's crucial to regularly inspect your fireplace for any potential signs of wear and tear, such as cracks, chips, or rust, ensuring its longevity and safety for your outdoor gathering areas.
DIY vs. Professional Installation: What to Consider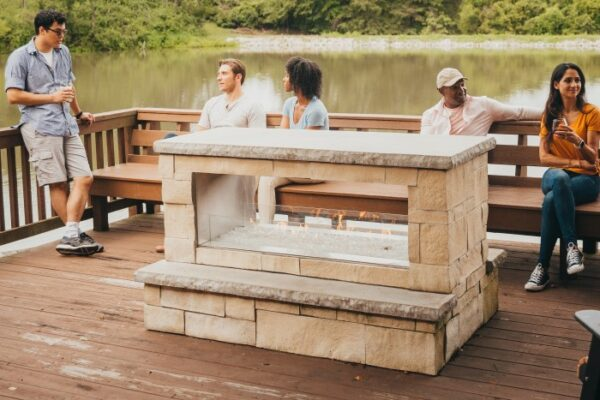 Choosing between DIY and professional installation for your outdoor fireplace involves weighing factors like cost, time, and expertise. DIY installation can be more cost-effective and provide homeowners greater flexibility, while professional installation can be faster and more reliable, depending on the complexity of the project and whether you're using fireplace kits or custom-built fireplaces.
Before you choose, consider the cost-savings of DIY installation and the time saved with professional installation. DIY installation may require more expertise than professional installation, depending on the project's complexity, but with the right guidance, anyone can create a beautiful outdoor living space.
Enhancing Your Outdoor Fireplace with Accessories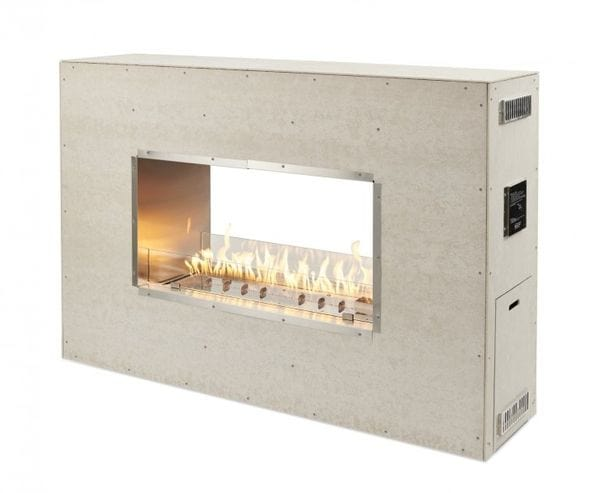 Enhancing your outdoor fireplace experience can be achieved by adding various accessories. Fire screens, grates, and decorative elements are all fantastic accessories for outdoor fireplaces, perfect for enhancing your outdoor living space.
When selecting accessories for your outdoor fireplace, consider the size and shape of your vent outdoor fireplace itself, the type of fuel you are using, and the overall design of your outdoor space. Accessories can add a truly personal touch to your outdoor fireplace ideas. A stylish fire screen, a grate with a beautiful decorative pattern, or a decorative element that reflects your personal style can make your outdoor fireplace truly unique and inviting.
How to Maintain and Care for Your Outdoor Fireplace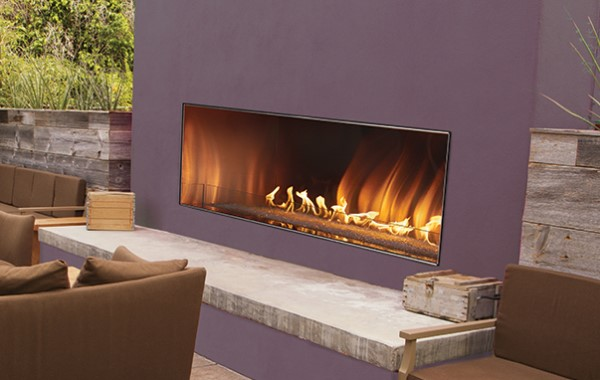 Ensuring the longevity and optimal performance of your outdoor fireplace throughout the seasons requires proper maintenance and care. Cleaning your outdoor fireplace at least once a year or more often if used frequently will keep it in great condition. A stiff brush and a mild detergent will do the job perfectly when cleaning your outdoor fireplace.
Regularly inspect your outdoor fireplace for any potential signs of wear and tear, such as cracks, chips, or rust. Damage can be easily repaired using a heat-resistant sealant or mortar, ensuring a safe and beautiful outdoor living space. Additionally, inspect the chimney and flue of your outdoor fireplace at least once a year to ensure optimal safety and peace of mind.
During the off-season, store your outdoor fireplace in a dry, cool place to ensure its longevity and maintain its beauty. Covering your outdoor fireplace with a waterproof cover is an excellent way to protect it from the elements and keep it safe during the off-season, preserving your outdoor fireplace ideas for years to come.
Summary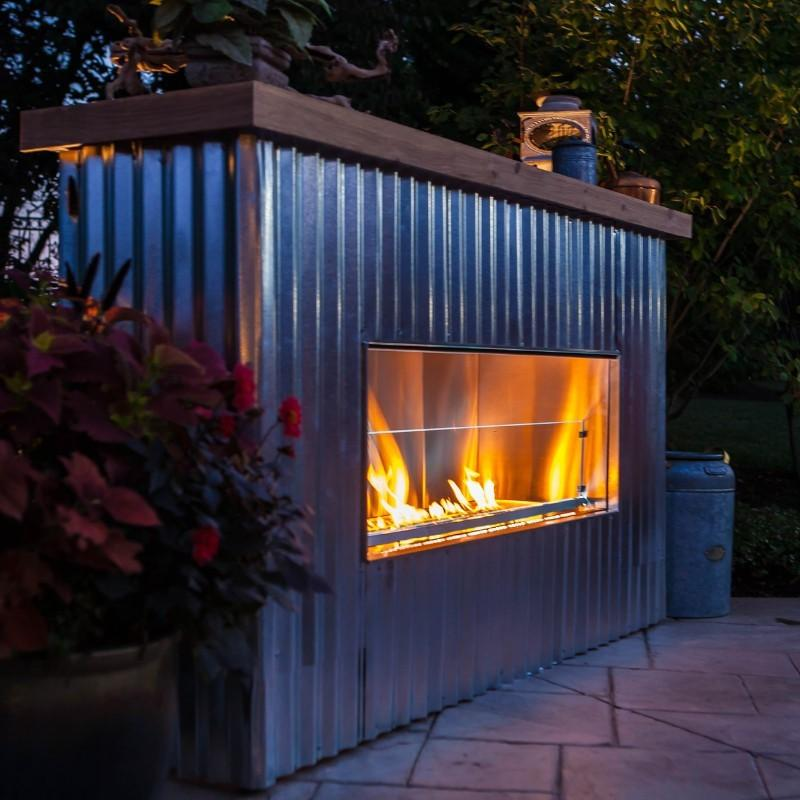 In conclusion, creating the perfect outdoor fireplace involves selecting the right type, style, and material to suit your outdoor space, preferences, and budget. With proper planning, design, and maintenance, your outdoor fireplace can transform your backyard into a cozy and inviting oasis for relaxation and entertainment. So why wait? It's time to bring your dream outdoor fireplace to life and create unforgettable memories with your loved ones.
Frequently Asked Questions
Can you put a fireplace on a patio?
You can bring the warmth and ambiance of a fireplace to your patio with the help of patio heaters or portable outdoor fireplaces. They come in different shapes, styles, and fuel types, so you should check what's allowed in your area before installing one.
What is a patio fireplace called?
Enjoy cozy evenings in your backyard with a chiminea, the terracotta outdoor fireplace perfect for your patio.
What is the average cost to build an outdoor fireplace?
The average cost to build an outdoor fireplace is about $3,000, ranging from $1,500-$20,000 depending on the size and complexity of the project. Pre-made kits and unfinished contractor models typically start at around $1,500, while a custom project can reach up to $20,000 or more.
Are outdoor fireplaces worth it?
Outdoor fireplaces are worth it as they get used more even in areas with long winters, work better in windy areas and the smoke will blow away from your seating area.
What is the recommended distance between an outdoor fireplace and a house?
For a safe and enjoyable outdoor experience, the recommended distance between an outdoor fireplace and a house is 20 to 60 feet.
Meet the Flame Authority Experts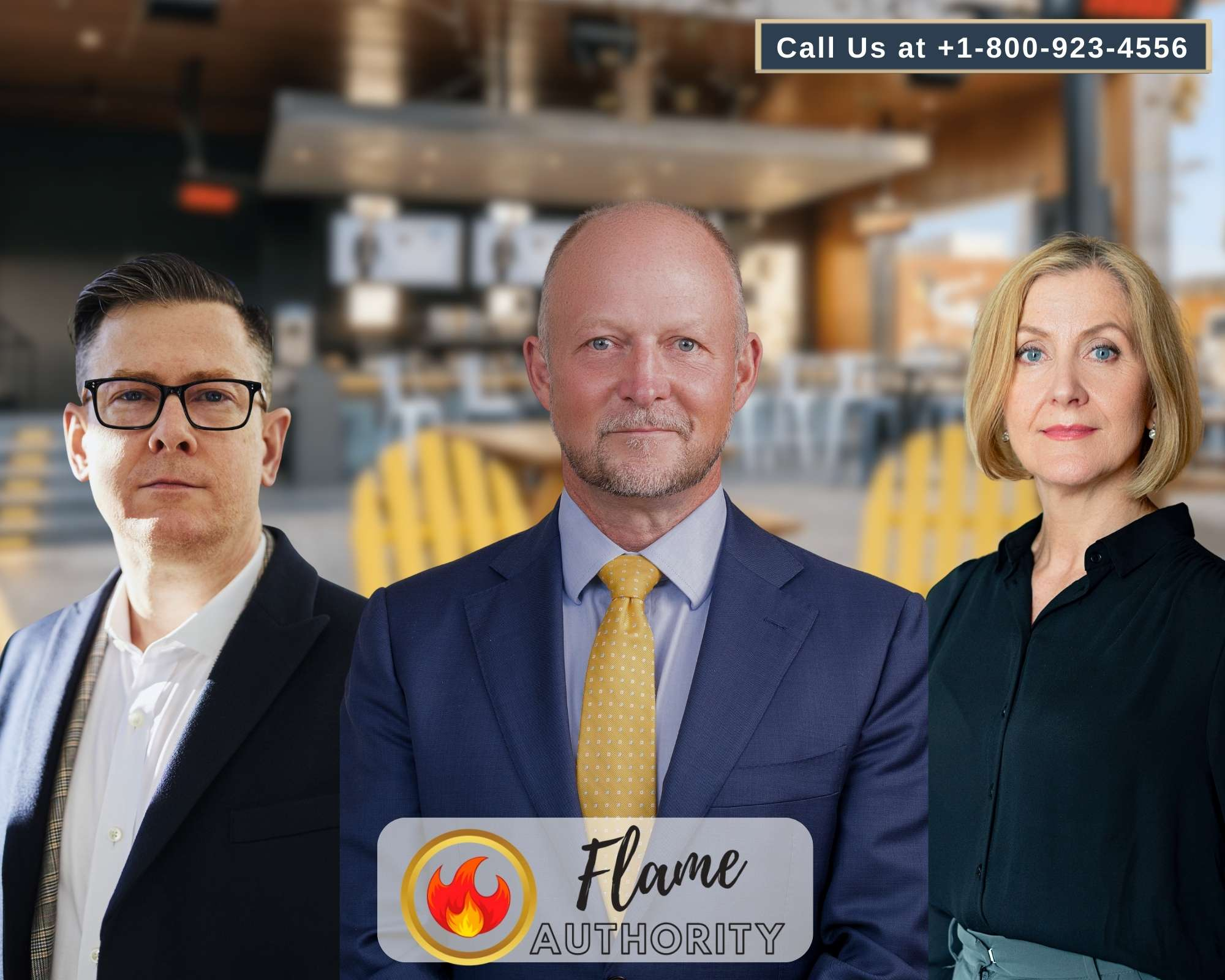 Flame Authority boasts a team of experienced experts passionate about outdoor fireplaces. We provide guidance on the choice, design, and maintenance of your outdoor fireplace. Call us at +1-800-923-4556 or email us at support@flameauthority.com
---